Major Safety Incident and Total Loss Avoided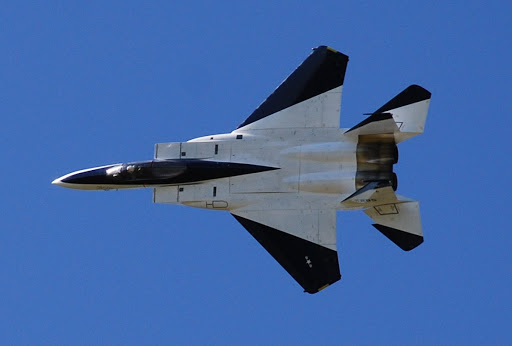 Project Impact
Asset saved from total destruction
Time and cost saved in reconstruction
Major safety issue avoided
Key Learning Points
The advantage of possessing an awareness for events unrelated to current activity
The need for aircraft assembly protocol and checklist
The need for rigorous pre-flight control checks
The need instantly to recognise when control surfaces are operating in the wrong direction
Experience, knowledge and alertness combined to avert a major safety incident.
In the context of UAV development, avoiding a major safety incident also avoided time delaying CAA investigations and more stringent future compliance requirements.
Causes
Poor protocol for airframe rigging
Poor protocol for flight control checks
Poor understanding of 'taileron' operation
Aircraft Type
Large Scale Gas Turbine Powered F15 model (equivalent to a 18kg UAV) – approximate value £15,000
Circumstances
During a model turbine jet weekend Dave Wilshere was acting as an aerial spotter for a fellow pilot. Another pilot taxied out to take off with his Scale F-15 Fighter, built over 18 months.
Pitch and roll control of this aeroplane was combined into tailerons – an arrangement very common in aircraft of this type.
The pilot of the F15 talked through the pre take-off checks with his spotter and when checking control direction of the tailerons said out loud "left-right" meaning the direction in which the aircraft would move when the stick was moved in that direction.
However Dave noticed that the F15 pilot had made a gross error when setting up the controls.
The F15 pilot had actually configured his tail controls not for 'tailerons' but for a 'V tail butterfly' arrangement – a configuration which, if the aircraft had become airborne, would certainly have resulted in a complete loss of control and total destruction not to mention a very serious safety hazard to those in the vicinity.
Dave stopped the F15 pilot from taking off
even though he was

absolutely adamant


that his controls were

correct

.
Dave stopped the F15 pilot from taking off even though he was absolutely adamant that his controls were correct.
After the aircraft for which Dave was spotting had landed the F15 owner came and thanked Dave for spotting the error, stopping him from taking off and, for certain, saving his aircraft from total destruction.
Three things saved the aircraft:
Dave's situational awareness. He is so finely attuned to airfield activity that he was able to pick out a potential problem with an aircraft whilst his attention was primarily focused on spotting for another pilot.
Dave's understanding of flight control systems. He was instantly able to detect incorrect flight control movements.
Dave's authority. His experience of putting together, checking and testing thousands of aircraft over the years meant that, in this situation, he was entirely certain that the controls were wrong. This meant that he could react with complete authority. There was no doubt and the aircraft was saved.
This is a good example of why it is so important for professional Test Pilots to understand all of the processes and protocols that a UAV team use. It enables them to understand where any potential weak spots might be lurking so that they can either help to fix them or be on guard for any problems that may result from them – particularly if they endanger safety or infringe CAA permissions.